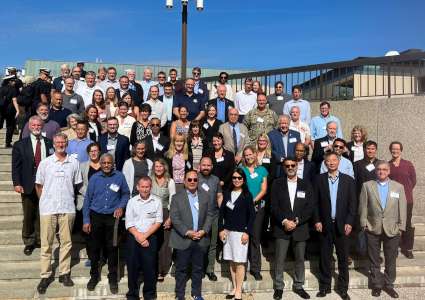 More than 80 structural, coastal, and climate experts and leaders gathered at a workshop titled Resilience of Navy Waterfront Facilities in a Changing Climate, Part I: Extreme Wind Speed, Sea Level Rise, and Flood Load on Waterfront Facilities, on September 19-20, 2023, at the U.S. Naval Academy (USNA) in Annapolis, MD. Workshop attendees hailed from the US Department of Defense, National Oceanic and Atmospheric Administration, National Institute of Standards and Technology, port authorities, prominent universities, industry consultants, and the American Society of Civil Enginees' Structural Engineering Institute and Coasts, Oceans, Ports & Rivers Institute.
Sponsored by the Naval Facilities Engineering and Expeditionary Warfare Center (NAVFAC-EXWC) and ASCE-COPRI, the workshop explored the need for, and approach to, updating the extreme design values in the US DOD Unified Facilities Criteria, or UFC. Focused particularly on identifying the non-stationary extreme wind speeds, sea level rise, and flooding load on waterfront facilities, the workshop objectives included: 1) review available data on effects of climate change on structural safety and infrastructure performance; 2) explore performance-based upper and lower bound limits for assessing lifetime safety and operations continuity of waterfront facilities; and 3) propose recommendations for updating UFCs. Workshop outcomes will also inform the development of the new ASCE-COPRI design standard for piers and wharves, currently under development.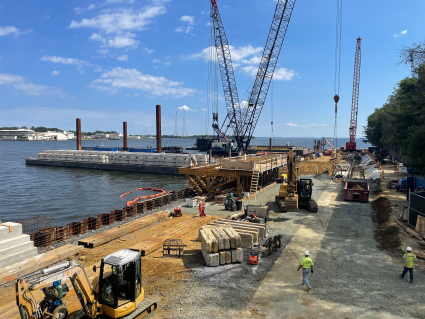 The US Naval Academy provided a unique opportunity for workshop participants to see a waterfront resilience improvement project up close as construction is currently underway on a $35 million sea wall project, which is just one part of a larger 40-year Installation Resilience Plan released in April 2023. Additionally, USNA cadets from the Naval Architecture & Ocean Engineering Department attended for the lunchtime keynote address titled Impacts of Climate Change on Coastal Infrastructure, by Distinguished Professor Mark Stewart, Center for Built Infrastructure Resilience at the University of Technology Sydney, Australia.
Part II of the workshop will be held in 2024 and will focus on life-cycle costs and performance-based resilience planning for waterfront structures and infrastructure systems. The outcomes of these workshops will be documented and published by ASCE.