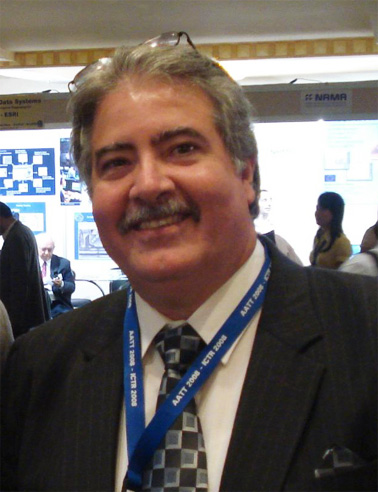 Benjamin Colucci Rios, Ph.D., P.E., PTOE, FITE, PAE, API, JD, M.ASCE, Professor of Civil Engineering at the University of Puerto Rico-Mayaguez (UPRM), has been selected as the winner of the 2020 Wilbur S. Smith Award. The Wilbur S. Smith Award was established by the Highway Division (now the Transportation & Development Institute) of the Society in recognition of the outstanding professional accomplishments of Wilbur S. Smith, Hon.M.ASCE.
Benjamin Colucci-Rios is a professor of civil engineering and director of the Puerto Rico Local Technical Assistance Program and FHWA Every Day Counts initiatives at the University of Puerto Rico–Mayagüez (UPRM). He was recently named as a Fellow by the ASCE Board of Direction. Colucci-Rios is also the Abertis International Chair-Puerto Rico, and ITE's 2019 Wilbur S. Smith Distinguished Transportation Educator. Exalted to the Pan American Academy of Engineering in Brasilia, Brazil, in 2009, he has been a visionary and forward-thinking entrepreneur, creating environments for innovative development programs for future professionals to move transportation education, research, service learning and technology transfer to another level. He was privileged to serve as acting dean of engineering at UPRM, associate director of the Civil Engineering Department, founder of the Puerto Rico-LTAP T2, founder and past president of ITE-Puerto Rico Section and UPRM, and spokesperson of the worldwide initiative of the Decade of Action of Road Safety: 2011-2020.
Colucci-Rios has been active in ASCE since 1986. He was editor/reviewer of the ASCE "2019 Puerto Rico Infrastructure Report Card," in the Road and Bridge Infrastructure sections, and was involved in ASCE's Journal of Legal Affairs and Dispute Resolution in Engineering and Construction and the Journal of Surveying Engineering.
During the passage and devastation of Hurricanes María and Irma in Puerto Rico in September 2017, Colucci-Rios volunteered to serve in the only radio station on air to provide assistance in terms of transportation logistics to the traveling public and government officials in the western region of Puerto Rico when there was no communication with the central government.
Over four decades in the academia at UPRM, he has served as PI or Co-PI in transcendental research projects as part of the University Transportation Centers for the USDOT, Office of the Secretary for Technology and Research, through UTRC, Safer-SIM and the National Institute for Congestion Reduction; in the Civil Infrastructure Research Center; in the USACE–Engineering Research and Development Center as chairman and/or faculty member of over 35 master's and Ph.D. theses associated with highway transportation infrastructure, highway safety, public transportation; and as mentor to over 320 undergraduate and graduate students as part of the Dwight D. Eisenhower Transportation Fellowship Program.
Colucci-Rios is a Fellow of the Institute of Transportation Engineers. He has given over 450 technical presentations in 40 countries and directed a successful bilingual training program in transportation in Puerto Rico and the U.S. Virgin Islands, hosting over 3,500 seminars, webinars, conferences and workshops.
His significant awards, among others, are dedication of the 81st Annual Assembly of the College of Engineers and Surveyors of Puerto Rico; FHWA Administrator's Public Service Award; Distinguished Civil Engineer from the Institute of Civil Engineers of Puerto Rico; Distinguished Professor of the Civil Engineering and Surveying Department; Distinguished Professor and Engineer of the CIAPR–Mayagüez Chapter; Microsoft EPICS Award, Millennium Researcher, UPR; Adopted Son of the Municipality of Mayagüez; and Who's Who Among America's Teachers.
Colucci-Rios received his BSCE from UPRM and his MSCE and Ph.D. from Purdue University, Juris Doctor. He is a professional traffic operations engineer of the ITE and Transportation Research Board University Representative at UPRM. He is a registered P.E. in Puerto Rico and Indiana.