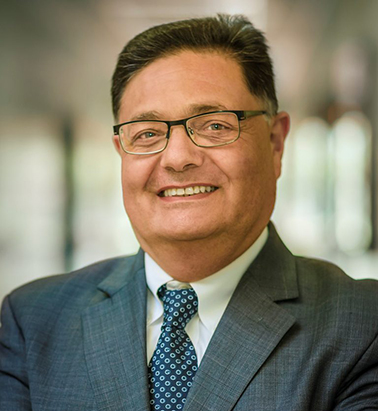 The Transportation and Development Institute (T&DI) of ASCE is pleased to announce Imad L. Al-Qadi, Ph.D, P.E., DIST.M.ASCE, of the University of Illinois Urbana-Champaign, as the 2021 recipient of the Robert Horonjeff Award. The award, named in honor of Robert Horonjeff, recognizes outstanding achievements in and contributions to the advancement of the field of air transportation engineering.
Al-Qadi serves as the visionary leader and director of UIUC's Advanced Transportation Research and Engineering Laboratory, the Smart Transportation Infrastructure Initiative (STII), and the Illinois Center for Transportation (ICT), which has made significant contributions to transportation engineering research. He also led the formation of the Academy of Pavement Science and Engineering, ICT, and STII, and is the Bliss Professor of Engineering at the University of Illinois Urbana-Champaign.
Al-Qadi's career has made an extensive and profound impact on the field of air transportation engineering. An internationally eminent leader in transportation, he has worked on the design, instrumentation, and data analysis at numerous airport testing facilities and led the development of advanced modeling 3D gear tire loading of airplanes on pavements. His research background includes over 750 authored or co-authored research publications. He also led more than 150 projects to completion. Al-Qadi has received numerous national and international awards, some of which he was the only one to receive in his field.
He has also helped break ground in building sustainable airfields by assessing the life cycle and environmental impact of airfields, applying plastics in asphalt-concrete mixes, and introducing ground-penetrating radar to predict the density of wet pavements.
Key to his contributions to the field is his work as a mentor to junior faculty members and students. He has helped junior faculty members excel in their careers and shaped the lives of students since 1990. He has mentored more than 70 doctoral and postdoctoral students as well as numerous master's students.
"He has developed a generation of students into airfield pavement researchers and practitioners," said Scott Murrell of Applied Research Associates, who served as the Chief Engineer of NY/NJ Port Authority.
Al-Qadi received a bachelor's degree from Yarmouk University as well as a master's and doctorate degrees from Penn State University all in Civil Engineering. He is a Distinguished Member of ASCE and served as President of ASCE T&DI.
I am pleased that UIUC's Department of Civil and Environmental Engineering has had a significant impact in this field over the past several decades and our former and current students are continuing this tradition by helping to build and maintain safe, resilient and sustainable airfields," Al-Qadi said.
"I couldn't be prouder of their accomplishments," he added. "I am accepting this honor on their behalf."
Al-Qadi is the 18th recipient of the Robert Horonjeff Award since its inception 34 years ago.