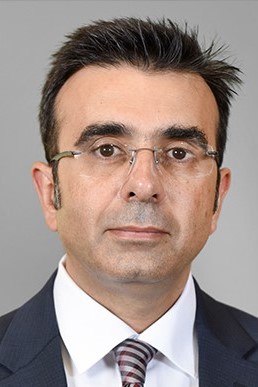 The Transportation and Development Institute (T&DI) of ASCE is pleased to announce Hasan Ozer, Ph.D., A.M. ASCE, of Arizona State University, as the 2022 winner of the Wilbur S. Smith Award. The award was established to honor contributions to the enhancement of the role of the civil engineer in highway engineering.
Dr. Ozer is an Associate Professor at Arizona State University's School of Sustainable Engineering and the Built Environment. He is also the Director of the National Center of Excellence on Smart Innovations and Founding Director of the Southwest Pavement Technology Program at ASU. Dr. Ozer has more than 15 years of experience in teaching and research in airfield and highway pavement materials characterization, computational modeling, and sustainability assessment of transportation infrastructure. Before he joined ASU, he served as Research Faculty at the University of Illinois Urbana-Champaign's Civil and Environmental Engineering Department and the Illinois Center for Transportation. He led or co-led many projects sponsored by the Federal Aviation Administration, Federal Highway Administration, Illinois Department of Transportation, Illinois Tollway, and private industry.
Dr. Ozer is actively involved in professional organizations that serve the pavement community. He is the Chair of ASCE and T&DI's Highway Pavement Committee and Co-Chaired the ASCE Transportation and Development Institute's 2019 and 2021 Airfield and Highway Pavement Conferences. Dr. Ozer also serves as Treasurer of the Academy of Pavement Science and Engineering.