The COPRI Governing Board initiated the Project Excellence Award in 2008 to provide a platform to highlight outstanding projects. This award is designed to acknowledge projects that exhibit exceptional design or construction in coastal, oceans, ports and harbors, or rivers related areas. The award-winning projects are recognized for their design excellence and innovation.
The Project Excellence Award acknowledges significant accomplishments in the following areas: concepts in design or construction; application of new or existing analytical techniques or technology; adaptive reuse of existing features or infrastructure; and innovative methods that minimize environmental impacts.
The 2023 COPRI Project Excellence Award was awarded to two projects:
Large Project: The Gladys Valley Marine Studies Building at Oregon State University in Newport, Oregon
Small Project:  San Francisco Fireboat Station 35 at Pier 22 ½ in San Francisco, California
Congratulations to our awardees!
Large Project: The Gladys Valley Marine Studies Building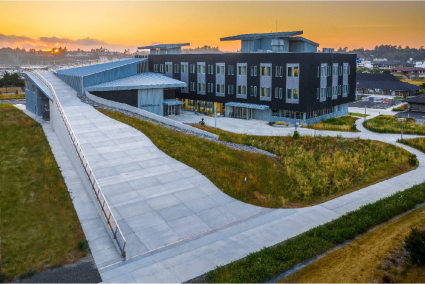 In 2016, as part of the Marine Studies Initiative Program, the president of Oregon State University (OSU) announced the initiation of a team to design a pioneering research facility capable of withstanding a magnitude 9.0 earthquake and tsunami. This proposed facility, now known as the Gladys Valley Marine Studies Building, is a part of the Hatfield Marine Science Center in Newport, Oregon.
The Hatfield Marine Science Center is dedicated to enhancing the region's ability for marine-related education, research, outreach, and engagement. The chosen location provides "access to the sea" and this building will offer increased laboratory capacity and a collaborative space for students and faculty to address critical issues related to the coast, ocean, and ocean literacy.
The necessity of locating this research facility at the coastal Hatfield campus posed a challenge to the design team to create a structure that could feasibly be constructed within a tsunami inundation zone. Given the geological risks associated with the site, OSU set ambitious design goals that included engineering the facility to withstand a magnitude 9.0 Cascadia Subduction Zone earthquake and the ensuing tsunami.
The building was also designed as a vertical evacuation refuge for individuals with mobility challenges, as an alternative to the established horizontal evacuation route used as part of the City of Newport's emergency preparedness plan. Constructed in June 2020, this building is among a few structures designed for tsunami risks and was the first at that time to utilize the recently adopted Tsunami Provisions contained in the ASCE Standard 7-16. The project was nominated by the design firm GRI of Tigard, OR.
Small Project: San Francisco Fireboat Station 35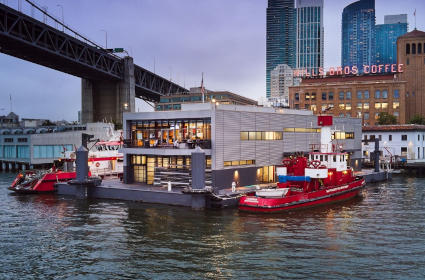 The San Francisco Fireboat Station 35 project involved the creation and fabrication of a floating fire station at Pier 22 ½ in San Francisco. This station provides firefighters with immediate access to fire boats and jet skis, enhancing their response time to marine emergencies and enabling them to reach areas of the city that might be unreachable following a major disaster. The station is designed to withstand sea level rise, severe storms, flooding, and earthquakes.
Given that firefighters will spend considerable time on the float, including for eating and sleeping, the float is specifically designed to minimize motion. The fire station is constructed on a steel float measuring 9 ft x 95 ft x 173 ft (2.7 m x 29 m x 53 m), anchored with four steel piles each 60 inches (1.52 m) in diameter. A newly built pile-supported steel pier structure adjacent to the landside sidewalk connects to the float via a steel access ramp capable of supporting an ambulance.
The design of this floating station is unique, featuring a steel float with an attached building that accommodates full-time personnel at the station. It is designed to adapt to sea-level. The project was nominated by design firm Liftech Consultants, Inc.
For information on past awardees and how to submit your project for consideration in 2024, please visit the COPRI Project Excellence Award webpage.