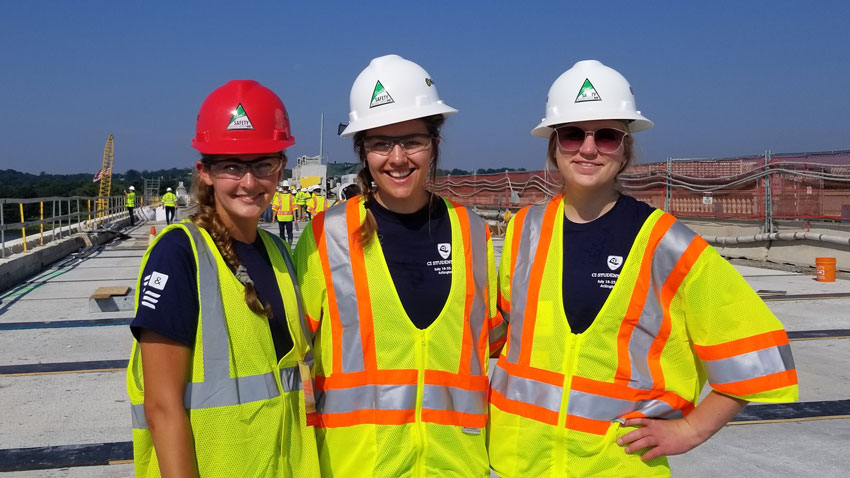 This fall, my term as the chair for Construction Institute's (CI) Student Days will come to an end. For 3 wonderful years, I have had the honor of progressing from Student Days planner to leading the Young Professional's Council (YPC) and having a seat on the CI Board.
Before arriving in Washington D.C. during a sweltering hot August for 2019's Student Days program, three young professionals from the YPC and I met up in Virginia Beach in May to plan. I was extraordinarily nervous going into 2019's Student Days, even though it was my third one planning and fourth one attending. Leaving Virginia, we had a good preliminary plan, were going to make it work and, at the very least, have fun. The year before, I had felt frazzled, but this year I was more confident. Essentially, this was my program. I knew the ins and outs and how I wanted to execute it. Our group of young professionals was cohesive and ready to help the students put together a proposal for the Arlington Memorial Bridge.
The students that year‐‐ always my favorite part of Student Days‐‐ were incredible. Some of them are now the core of CI's Young Professional's Council. I have learned so much from them; some are calm-natured but get things done efficiently. They are curious, constantly solicit feedback, and foster an inclusive team spirit. They are kind, enthusiastic, and determined in everything they do. Although I feel have learned much more from our students than they have from me, for some I continue to serve as a formal mentor. Every few weeks, I look forward to getting e‐mail or phone check‐ins from the adventurous and tenacious Student Days alumni from across the country.
As much as I enjoyed the technical aspects of Student Days‐‐ planning the schedule, getting speakers, setting up the project, tabulating scores, reading proposals, and watching the students presentations‐‐ I can't help but gush at what it intangibly provides for the students. The program challenges students while they are trying to learn and apply new material about the construction industry. However, the true value of Student Days-the connections with other construction students and professionals from across the country‐‐ hits them at the end when they get on the plane to head home.
The thoughtful, passionate students I have met through Student Days will soon lead the construction industry. They inspire me and give me reason to believe that the much‐needed changes towards equity and sustainability in construction will someday come. I am excited to see what the new "generation" of the YPC has in store, and hope that they are able to learn in grow in the opportunity as I was.
Peyton Gibson, EIT, LEED GA, A.M.ASCE
Former Chair, CI Young Professionals Council
U.S. Bureau of Reclamation