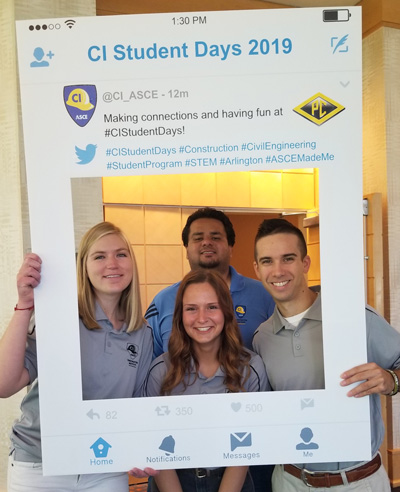 My one-year term as chair for Construction Institute's (CI) Young Professionals Council is almost near completion, having started in Fall 2020. My involvement initially began as a Student attendee in 2016, and words cannot explain how phenomenal my experiences have been as both a Student and as a Professional involved in the CI YPC.
Prior to attending my first Student Days, I spent time trying to research and prepare myself for the competition, anticipating the most I would get out of the experience would be a win or loss - I was gratefully surprised by what truly came of the experience. My team had a group chat and correspondence prior to flying out to Student Days, which lead us to meeting one another in person for the first time, at the airport. Throughout the duration of the competition ensued team elected all-nighters with music and stretch & flex dance breaks, an extensive amount of knowledge acquired within the team and mentors, professional networking with a huge comfortability level, exploring the Boston area, and overall an amazing experience. Professionals and Students from this 2016 Student Days, through to every Student Days since, I have made many networking connections in the industry across the country, as well as lifelong friends.
Fast forward to my opportunity to be involved in the YPC as a professional, I cannot contain my excitement to chair this Council and implement many new additions to improve all the Council has to offer to the Young Professionals in the Council and to Students. On the professional end of it, my goals for my term are to provide opportunities to improve technical competency, to allow for more opportunities for leadership roles within the Council, to grow the size and retention of YPC members, and much more.
Thus far, multiple new committees have been created with their own chairs, roles, responsibilities, and goals for the year. New technical training has been implemented to allow the young professionals an opportunity to advance the Council's overall technical competency and to allow the young professionals to mentor Students. Currently underway is a mentorship program with YPC members and CI Board members, for an opportunity to have a one-on-one mentorship with an opportunity to receive a vast amount of knowledge, career advice, and a multitude of other valuable opportunities. Implementing the new Regional Student Competition is one of the biggest feats for this year. To promote retention within the YPC, we held our first annual, anonymous, virtual gift exchange, virtual happy hours, virtual YPC gaming sessions, and hope to plan and enjoy many more of these. Amongst many other initiatives underway with our larger team, has only been possible with the dedication and commitment from all the YPC, CI Board and CI Staff.
On the Student Days end of the YPC, although previous Student Days were all full of intangible information and immense enjoyment, there is always room for improvement. Without giving too much away, the YPC is working to provide multiple opportunities for a more informative Competition, provide more real-life scenarios with acquiring pricing from subcontractors and vendors, amongst so much more.
Looking back on my years of involvement in the YPC, the most impactful has been this past year, dating back to March 2020. Undergoing all of the difficult scenarios which COVID-19 has presented every individual with, professionally and personally, and my own hardships undergoing multiple reconstructive hip surgeries, the reality of how close to my heart the entire YPC, CI Board, CI Staff, and Student Days Attendees/Alumni, truly hit home. The unwavering support of all involved through my many new initiatives within the YPC, spending countless hours on end to tackle new objectives, and on a personal level being my support system for everything from funny and motivational Memes, to receiving homemade cookies on my return home from surgery, to the phone calls to just talk/catch up; the community within the YPC and CI has become a huge part of my life, and family in itself. Throughout all of the new initiatives, my overall vision is to create a sustainable, fruitful YPC/CI family by encouraging all young professionals to reach and continuously improve their greatest potential in their careers, to reciprocate, validate and accrue knowledge through mentorships, and to became an integral support in the Civil Engineering and Construction Industry.
Gabrielle Grompone, EIT, A.M.ASCE
Chair, CI Young Professionals Council
J. Fletcher Creamer & Son, Inc.