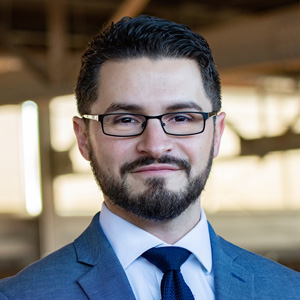 The first of this month marked the start of my term as President of the ASCE Construction Institute (and my birthday - quite the present!). When I stepped into the role of Vice President exactly one year earlier, the world was a very different place. CI was organizing speakers and exhibitors for our annual CI Summit to be held in Los Angeles, CA in late February 2020, and was actively promoting our 2020 CI Student Days to be held in Denver, CO in late July. The Summit was luckily well-attended, but none of us quite knew what was about to take place. While there, I recall listening to the welcome message delivered by now Past-President Rob D'Onofrio and wondering what I would say when I took the stage the following year. Then came COVID.
COVID took the world and our nation by storm in the weeks and months to follow, and it ultimately led to widespread work-from-home orders and the cancellation or reformatting of several ASCE conferences as virtual events, including the 2020 CI Student Days. As you will recall if you read last month's CI Newsletter, COVID also led to the CI Board's regrettable but well-intentioned decision to proactively cancel the 2021 CI Summit (which would have been held in St. Louis) given the distinct likelihood that our world would not be back to pre-pandemic "normalcy" by the spring. We remain hopeful that we can host an in-person Student Days this coming July in Denver, CO, and we shift our Summit focus to March 2022 in Washington, D.C. where we plan to combine forces with the bi-annual U.S. meeting of the Construction Research Congress (CRC).
While I won't be able to take the physical Summit stage for my presidential address in St. Louis this coming spring, I am instead making the best of our current situation and using this web-based platform to broadcast CI's message to a significantly broader audience, in the same way as I did when presenting in ASCE's first ever Virtual Technical Conference last month. If I can accomplish one thing in my term as President this coming year, it would be to promote unity without proximity or prejudice (particularly amidst a plague of social injustices), and togetherness in these times of physical and emotional separation. Zoom-fatigue and reduction in morale of isolated staff members are real, and we all need to make conscious efforts to nourish the personal connections that are often a key source of our enjoyment in the daily grind.
To promote these personal connections amidst our remote environment, CI will present a feature piece on a different local CI chapter in each newsletter to follow this one throughout the coming year. Local-level leadership will tell you about their chapter, and about successfully completed and upcoming events. We hope that this will create opportunities for cross-chapter knowledge sharing, combined events, and even give some of you the courage to form your own local chapter where one may not currently exist (view more information on current local CI chapters).
Please join me in my quest to put the forward slash back in 20/20 and achieve clarity amidst the hysteria.
Daniel R. Cook, P.E., S.E., M.ASCE
CI President 2020-2021