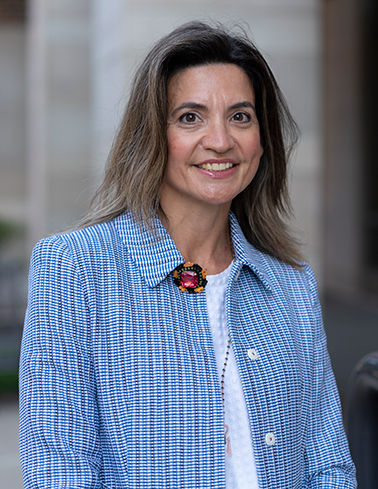 The Transportation and Development Institute (T&DI) of ASCE is pleased to announce Konstantina (Nadia) Gkritza, Ph.D., M. ASCE, of Purdue University, as the 2022 winner of the Frank M. Masters Award. This award is given to a member of the Society for the best example of innovative or noteworthy planning, design, or construction of transportation facilities.
Dr. Gkritza is a Professor at the Lyles School of Civil Engineering at Purdue University and a Purdue University Faculty Scholar. She is the Director of the Sustainable Transportation Systems Research Group, the Campus Director of the NSF ASPIRE Engineering Research Center, and the ASPIRE Adoption Thrust co-lead. Her research primarily focuses on advancing the understanding of the triple bottom line (economic, environmental, and social) for sustainable transportation systems and developing empirical models and practical tools for use in transportation decision-making. Her recent work revolves around assessing the direct and indirect impacts of transportation innovations and technologies, such as transportation electrification, and connected and automated vehicles.
Dr. Gkritza is an Associate Editor of two journals: the ASCE Journal of Transportation Engineering in the areas of transportation planning, modeling, and economics; and International Journal of Transportation Science and Technology in the area of energy and climate change. She is a member of the of the Transportation Research Board (TRB) Committees on Freight Transportation & Regulation, and Agriculture & Transportation, and past co-Chair of the TRB Committee on Transportation and Economic Development. Her awards include Purdue University's College of Engineering Faculty of Excellence in Leadership Award, the Jane F. Garvey/UMass Institute of Transportation Engineers Transportation Leadership Award, a Greek Diaspora Fellowship by the Institute of International Education, Stavros Niarchos Foundation, and Fulbright Foundation in Greece, among others. She teaches courses on transportation engineering, economic analysis of transportation investments, public transportation systems, and transportation data analysis. Dr. Gkritza holds a Diploma in Civil Engineering from the National Technical University of Athens, Greece, an M.S.C.E. from the Virginia Polytechnic and State University, and a Ph.D. in Civil Engineering from Purdue University.
Learn more about Dr. Gkritza and her work on the Sustainable Transportation Systems Research Group, Advancing Sustainability through Powered Infrastructure for Roadway Electrification (ASPIRE), Google Scholar, ResearchGate, LinkedIn, and Purdue University Profile pages.