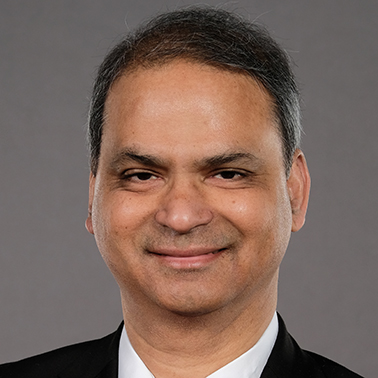 The Transportation and Development Institute (T&DI) of ASCE is pleased to announce Amiy Varma, Ph.D., P.E., AICP, PTOE, M.ASCE, of AAJ and North Dakota State University, as the 2022 winner of the Harland Bartholomew Award. This award recognizes contributions to the enhancement of the role of the Civil Engineer in Urban Planning and Development.
Amiy Varma is a registered professional engineer, certified planner, and certified professional transportation operations engineer. He is an educator, researcher, mentor, leader, and consultant. As an intern he worked on the longest river bridge in India. Soon after finishing his Bachelor's degree from the Indian Institute of Technology (IIT) in Bombay, he worked as graduate and planning engineer on a $40M Thermal Power Plant project for Tata Electric Companies in Trombay, India. He then transitioned to teaching and research, serving as research assistant in the Department of Civil and Environmental Engineering at Vanderbilt University, and as Teaching and Research Assistant in the School of Civil Engineering at Purdue University. This was followed by an almost 30‐year career as tenured faculty member in the Department of Civil and Environmental Engineering at North Dakota State University (NDSU).
Since July 2020 he has been President of AAAJ, LLC and is engaged in planning, engineering, and information technology consulting and research. Dr. Varma's teaching, research, service, and consulting has focused on transportation planning and engineering and many related cross‐cutting areas. He has educated and advised over 2,500 undergraduate and graduate students through several didactic and individual/specialized courses. He has worked on research sponsored by the Construction Engineering Research Laboratory (CERL) of US Army Corps of Engineers, the Indiana Department of Transportation (INDOT), World Bank, the South Dakota Department of Transportation (SDDOT), the Minnesota Department of Transportation (MNDOT), the National Science Foundation (NSF), NASA‐EPSCoR, Airport Cooperative Research Program (ACRP), and others. Through his teaching, research, service, and consulting, he has worked on highway and aviation noise, environmental and ecological considerations of land transport in developing countries, highway financing and revenue forecasting, economic impact of transportation construction, statewide and metropolitan transportation planning, and much, much more.
Dr. Varma has served as member or Chair of many committees of ASCE, the Institute of Transportation Engineers, the Transportation Research Board, and many others. He was previously the Chair of TRB's AV070 Aircraft/Airport Compatibility Committee, ITE's Freight Mobility Council, and ASCE T&DI's Aviation Planning and Operations Committee (APOC). Currently, Dr. Varma chairs T&DI's Aviation Council. His research has been published in ASCE's Journal of Construction Engineering and Management, ASCE's Journal of Transportation Engineering, the Transportation Research Board's Transportation Research Record, the Institute of Transportation Engineers Journal, and Transportation Economics Research Letters. He has presented at TRB Annual Meetings, ASCE International Conference on Transportation and Development (ICTD), World Conference on Transport Research Society (WCTRS), ITE Annual Meetings, APA National Planning Conferences, and the Air Transport Research Society (ATRS) World Conference.