COPRI's Ports & Harbors Committee and the PORTS '22 Organizing Committee held another successful PORTS Conference in Honolulu, HI September 18-21, 2022. The conference was attended by almost 800 people from 16 countries. The Students and Young Professionals program, which was spread out among every day of the conference, was a highlight for many in attendance.

The Ports & Harbors Students & Young Professionals Task Committee began working in 2019 to plan events and technical sessions specifically tailored to engage students and young professionals while encouraging networking with the seasoned professionals. More than 150 students and professionals of all ages networked over drinks and hors d'oeuvres on Sunday, September 18 and met again for a round of "speed networking" and lunch on Monday, September 19.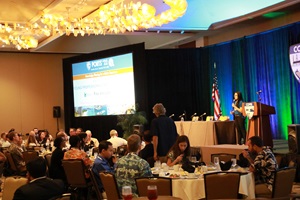 Norisa Abelgas, P.E., M.ASCE, Port of Long Beach leading the networking event
Student Paper Competition

On Tuesday, September 20, the Ports & Harbors Students & Young Professionals Task Committee hosted the presentations from the triennial Student Paper Competition finalists. Four finalists from an open call for abstracts and paper review were invited to present their papers during a special technical session.
The finalists presented in front of conference attendees and judges. The presentations were ranked, and in the end the competition was very close. The three winners all received cash prizes and recognition during the conference.
The finalists of the Student Paper Competition are:
Please join COPRI in congratulating the finalists, winners, and all of the great submitters to the PORTS '22 Student Paper Competition.

PORTS 101 Technical Track

The PORTS 101 series ran as a concurrent technical track throughout the conference where unique, port industry experience and knowledge was presented in easily digestible 20-minute presentations. The presentations were tailored for new technical professionals working in the port and maritime industry, especially those in port authorities, public agencies, consulting firms, and contractors. These well attended sessions covered topics such as ports structures, inspection and design, sustainability and resiliency, and management and operations.
Young Professionals Team Building Event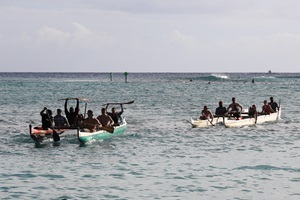 Two teams finish a race on Duke's Beach
Nearly 100 conference attendees met on Duke's Beach Monday, September 19 for the Young Professionals Team Building Event. It was an afternoon of team building and professional networking while simultaneously participating in a unique Hawaiian experience: outrigger canoeing. The participants were randomly divided into teams, then raced against each another in an effort to be crowned the tournament's champion. As the tournament was unfolding, non-racing participants enjoyed music and beach volleyball. Racers brought their competitive spirits and made lasting professional connections.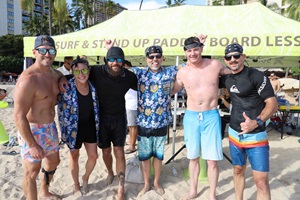 The winners of the Young Professionals Team Building Event