EWRI is a specialty Institute- approximately 26,000 members strong - within the American Society of Civil Engineers.
Membership makes it possible for you to advance your own career goals as well as EWRI's vision and mission. View the benefits of EWRI and ASCE-EWRI memberships.
EWRI membership is open to both engineers and non-engineers, inviting a diverse group of environmental and water resource professionals to get their feet wet with EWRI.
Our membership includes engineers and allied professionals such as:
Hydrologists
Biologists
Academicians
Researchers
Attorneys
Landscape architects
Other professionals involved in "wet and environmental" projects and research.
ASCE/EWRI Membership
Membership in EWRI is open to all ASCE members. All pre-October 1, 1999 "wet and environmental" ASCE enrollees were automatically offered EWRI membership.
New ASCE members can opt to name EWRI as their primary institute during their ASCE membership enrollment period and will receive membership at no added cost. An additional annual fee of $30.00 will be charged if EWRI membership is selected at a level other than first choice. Download a copy of the EWRI brochure.
Renew your ASCE/EWRI Membership
EWRI/ASCE Membership: $261
EWRI-Only Membership
Individuals and groups who select Institute-only membership will receive EWRI publications and other Institute benefits such as discounted conference and continuing education registrations.
EWRI-only Membership: $85
Student Membership
Students interested in pursuing careers in environmental and water-related fields are encouraged to become members of EWRI. EWRI offers student competitions, career planning sessions at our Congress, and other opportunities for growth. Full-time students can jump-start their careers with EWRI at no cost. Students must submit official proof of full-time student status from their educational institution.
Join as an EWRI Student Member
Student Membership: $0
EWRI Organizational Membership
Pledge your support for the vision and mission of EWRI and help advance water resources and environmental solutions that will achieve a sustainable future! This is a great opportunity for businesses, government agencies, and other organizations to make themselves more visible to the technical community of EWRI/ASCE.
Any organization or company can join EWRI as an Organizational Member, EWRI Partner or Cooperating Organization, including design firms, companies, associations, government agencies, universities and other organizations that support the mission and objectives of the EWRI.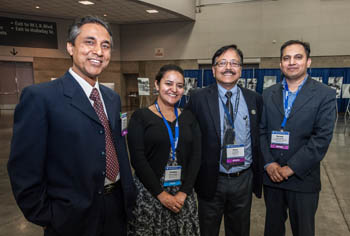 Organizational Member or EWRI Partner Benefits
A special exhibitor discount of $100 off at an EWRI conference
Advertisement on the EWRI website with a brief description of the Organizational Member and link to their website
Business card-size listings in EWRI Currents
Name recognition for clients
One EWRI voting membership for an individual designated by the Organizational Member
Invitations to all EWRI functions
An Organizational Member wall plaque
Join as an EWRI Organizational Member
Organizational Membership: $500