An EWRI Fellow is someone who is recognized by the field, and their peers, as a leader in water resources and/or environmental engineering.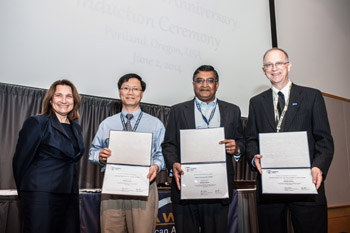 Benefits of becoming an EWRI Fellow include:
Recognition as a leader in the water resources, environmental, engineering, and sciences professions
EWRI Fellows receive a distinctive certificate marking the achievement, as well as a EWRI Fellow lapel pin
Recognition on the EWRI website and in the EWRI Currents Newsletter
Fellows are honored with the F.EWRI credential
To be eligible for advancement to the grade of Fellow, an EWRI member must:
Have been a dues paying member of EWRI for 10 or more years.
Have demonstrated accomplishments that have contributed significantly to the advancement or application of water resources or environmental engineering, science, and technology;
Have mentored or provided other service to students or junior engineers/scientists, or provided significant public outreach to advance the education, understanding, and advancement of engineering and science related to the EWRI mission.
Have been actively involved with EWRI through committee participation, conferences, or journals.
EWRI Fellow Requirements and Application Process (PDF)
EWRI Fellow Application Form (PDF)
Don't miss your chance to join this elite EWRI club, and make good use of your long-term involvement with the Institute.